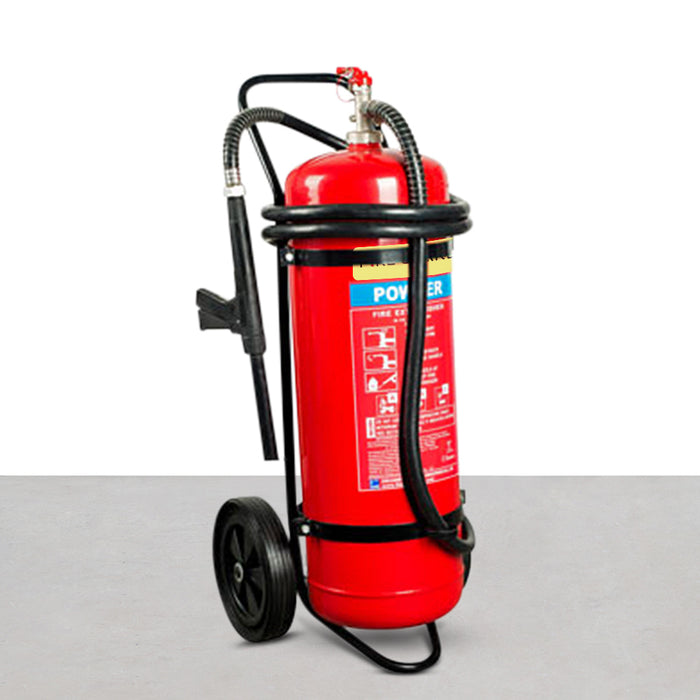 50KG AB Stored Pressure Trolley Fire Extinguisher
⏳ 12.12 Sale ends in {timer}
AB Dry Powder Trolley Fire extinguishers are suitable for mixed fire risk environments. This range offers a combination of fire performance and ease of service. The trolley unit can be operated by one person and suitable for areas with high risk fire such as industrial facilities.
Please take note that our ABC Fire Extinguishers are labelled Fire Classes A & B only because Class C fires are extinguished simply by switching off the main gas switch. The materials on flame tend to belong to Class A & B fires which can be extinguished by this fire extinguisher.
The cylinders are deep drawn from cold rolled steel with hot forged brass operating valve fitted with pressure indicator. Coated with epoxy powder, the cylinder offers high corrosion resistance. Designed to EN 1866 requirement, and manufactured to our ISO 9001 Quality Management System.
Stored pressure type comes with 5M hose & Nozzle.
Approvals: SETSCO SCDF Approved & BS EN3 KM569890
Technical specifications
Model :                          FT03-047C-00
Test Standard :              EN 1866
Propellent :                    N2
Discharge Time :           ≥ 30 SEC
Height :                         1080MM
Width :                          450MM
Depth :                          435MM
Approx Total Weight :   82.0KG
Operate Temperature : -30°C - +60°C
Working Pressure :       15 BAR
Test Pressure :              30 BAR
Fire Rating :                   A IIB