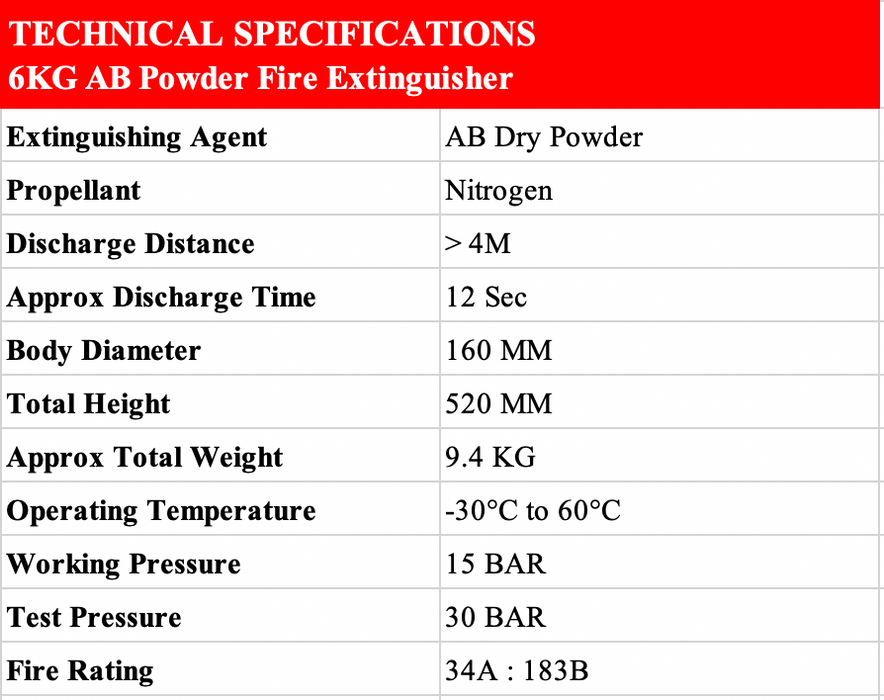 6KG Dry Powder Fire Extinguisher
⏳ 12.12 Sale ends in {timer}
5 Years Warranty on manufacturer defects
Purchase of this extinguisher comes with a wall bracket as shown in the second photo
Suitable for Classes of Fire: A & B
Example Places of Use (and not limited to): Office, Retail Shops, Warehouse, Restaurants
Approvals: SETSCO SCDF Approved & BS EN3 KM569890
Please take note that our ABC Fire Extinguishers are labelled Fire Classes A & B only because Class C fires are extinguished simply by switching off the main gas switch. The materials on flame tend to belong to Class A & B fires which can be extinguished by this fire extinguisher.
Dry powder fire extinguishers are common fire safety equipment recommended for multiple classes of fire. Based on a chemical powder that has the ability to transform into foam, once it is discharged, these fire extinguishers are very popular and very effective. The ABC powder used for these extinguishers is named this way, based on what classes of fire the products are capable of fighting.
The ABC Model
An ABC dry powder fire extinguisher is a product designed to put away fires categorized in the A, B and C classes. The A class includes fires caused by flammable solids, the B class, fires caused by flammable liquids and the C class, fires caused by flammable gases, like butane and propane. As you can see, fires caused by electrical systems are not included here; for those fires, you need an extinguisher based on CO2 – carbon dioxide. 
Potassium bicarbonate is the usual chemical used for ABC fire extinguishers; in real world, it is best known as baking soda. Keep in mind to never use ABC extinguishers on electrical systems, because this chemical is corrosive when in contact with metals and it also attracts moisture. Use the fire safety equipment existent on your property just for the purpose it was designed, and you will have the best results. If you are unsure what products you should use, please contact us and our experts will help you choose the best fire safety equipment for your needs.
Effective Extinguisher to Protect You
If you have ever seen the effects of a dry powder fire extinguisher, you may have noticed how messy the place looks like, after such a product was used. It is true that the baking soda transformed into foam leaving quite a mess behind, but this is truly just a small price to pay, seeing that lives and material property can be saved with this simple type of fire safety product. 6kg dry powder fire extinguishers are a solid choice for medium size businesses, because they hold quite a lot of active chemical to make sure that any fire is put away.
Make sure that your personnel are well instructed on how to use the fire extinguisher and that the equipment you have on site is not expired. From time to time, you may have to purchase new fire extinguishers to replace the old ones, but it is just a small investment, seeing that you will be able to protect your property and also the lives of those who work inside the building.
For any additional information you may be interested in finding out, we are readily available and we will happily assist you, provided that you contact us with your questions.