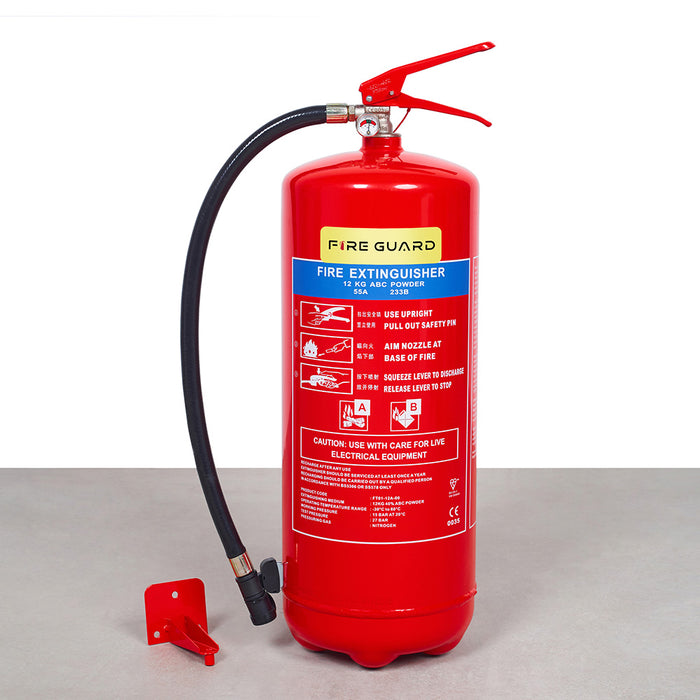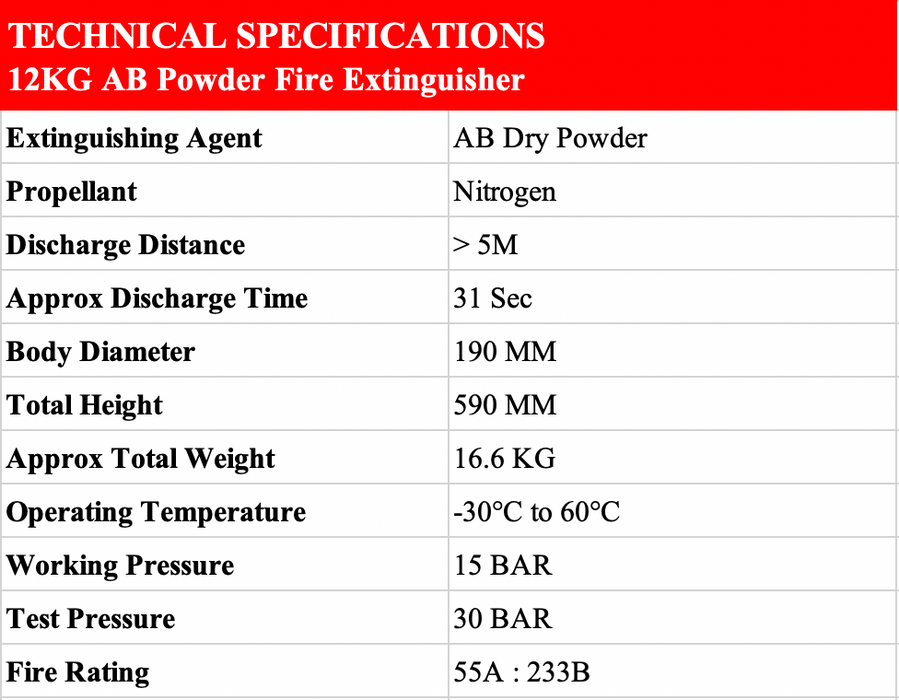 12KG AB Dry Powder Fire Extinguisher
⏳ 12.12 Sale ends in {timer}
5 Years Warranty on manufacturer defects
Purchase of this extinguisher comes with a wall bracket as shown in the second photo
Suitable for Classes of Fire: A & B
Example Places of Use (and not limited to): Office, Retail Shops, Warehouse, Restaurants
Approvals: SETSCO SCDF Approved & BS EN3 KM569890
Please take note that our ABC Fire Extinguishers are labelled Fire Classes A & B only because Class C fires are extinguished simply by switching off the main gas switch. The materials on flame tend to belong to Class A & B fires which can be extinguished by this fire extinguisher.
As most people do not have experience in dealing with fires incidents, it is important for people to have some knowledge and information about the use of fire extinguishers to remain safe during a fire. There are different kinds of fires depending on the source of the fire. Dry powder fire extinguishers are used for Class A, B and C fires. These extinguishers are also known as ABC dry powder fire extinguishers.
Breakdown
The ABC chemical fire extinguisher come in different sizes - 3, 6, 9, 12KG. Some of these are portable while others like the 12KG are wheeled. For emergency purposes, fire extinguishers are Red in color for quick identification. A safety pin is attached which must be pulled before use. Safety valve, valve seal, hose, operating levers, base port are some other major parts of these extinguishers. Our extinguishers also come with a wall bracket.
Things to Note
Our 12KG ABC dry powder fire extinguishers approximately weighs around 16.6KG. Suitable operating temperature range for these extinguishers is -30°C to 60°C. The powder used is mono-ammonium phosphate which is yellow in color.
The dry powder or chemical fire extinguishers are called multipurpose fire extinguishers because these can fight three classes of fires but are especially the best solution for class A fire. These are at least 4 to 5 times effective than the same amount of water in the case of class A fires. However, depending on the content in the venue, it is also recommended to use CO2 extinguishers in the case of Class B or Electrical fires. This is because the mono-ammonium phosphate powder used in these extinguishers leaves residues that can cause damage to the electrical equipment. Also, moisture can react with the powder and can produce corrosion. So it is better to clean up the residue from the area after usage of the Extinguisher.
Directions & Precautions
There are some safety precautions to be taken during handling or use of ABC dry powder fire extinguishers. It is advisable not to mix ABC dry powder with any bicarbonate based chemicals. A reaction harmful to the extinguishers will occur. The dry powders used in the extinguishers are irritating to respiratory systems, eyes and skin. Ingestion of it can cause nausea and cramps while direct contact with the skin can cause serious irritation. It is better to be very careful while operating the fire extinguisher. However, if these incidents take place, panicking is not the solution.
Take some initial treatments like washing the area effected with water, cleansing skin with soap. After that contact a specialist for further treatment.