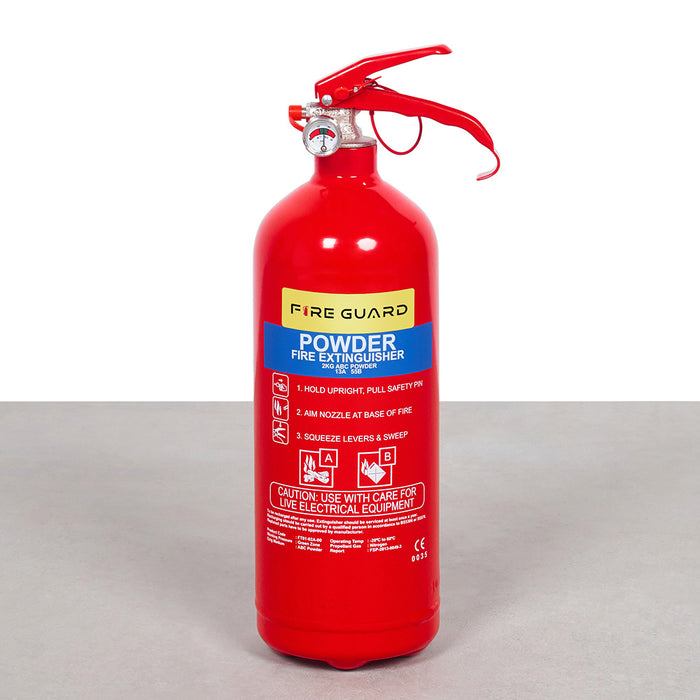 2KG Dry Powder Fire Extinguisher
⏳ 12.12 Sale ends in {timer}
5 Years Warranty on manufacturer defects
Purchase of this extinguisher comes with a wall bracket as shown in the second photo
Suitable for Classes of Fire: A & B
Example Places of Use (and not limited to): Home, Office, Retail Shops, Warehouse, Restaurants
Approvals: SETSCO SCDF Approved & BS EN3 KM569890
Please take note that our ABC Fire Extinguishers are labelled Fire Classes A & B only because Class C fires are extinguished simply by switching off the main gas switch. The materials on flame tend to belong to Class A & B fires which can be extinguished by this fire extinguisher.
Whenever you need to extinguish a fire in the A, B, C categories of fires, an ABC dry powder fire extinguisher is the best product for fire protection. We are a Singapore top supplier of new fire protection equipment, including dry powder and CO2 fire extinguishers. A 2KG dry powder fire extinguisher is a good choice for protecting your home against such hazards. However, if you are responsible for fire protection for a larger building, you may want to consider a larger size.
For burning liquids
The source of the fire is very important when choosing a dry powder fire extinguisher. For instance, burning liquids must be extinguished with the help of a standard dry powder extinguisher. The dry powder is held under pressure and it releases its discharge only when the safety pin is removed and the jet is directed against the fire source. If you have any enquiry about fire extinguishers based on dry powder or carbon dioxide, you can always contact us and we will help you right away.
Fire safety is a very important issue, both at home and at the working place. Using a standard dry powder fire extinguisher can help you a great deal and limit the damage caused by the fire, and even loss of human lives. Emergency services are always available and ready to help, but, with the help of a simple fire safety product like a fire extinguisher, you can put out a fire before calling the firefighters.
For Burning Solids
A multi-purpose dry powder fire extinguisher is a better choice when you are dealing with burning solids. As mentioned earlier, the type of fire you are dealing with is very important. Burning solids can also fall in the A, B, C classes of fire, so a dry powder fire extinguisher is the best choice.
These fire safety products are sold in different quantities, depending on the objective you want protected against fire. 1Kg, 2Kg and 3Kg dry powder fire extinguishers are most indicated for home and small office use, because the chances of a large fire are minimum.
Be always aware of the fire class recommendations. Fires that are caused by malfunctioning electrical systems, for instance, cannot be extinguished with dry powder products. The foam resulted from discharging the powder held under pressure inside the metallic cylinder will not be able to stop an electrical fire. Carbon dioxide is much more indicated for such fires, because it basically removes all the oxygen fueling the fire and stops it right away.
Always keep in mind to follow the instructions written on the fire extinguisher to the letter. Also, purchase a new extinguisher, if your old one is expired or close to its expiration date. The last thing you want is a malfunctioning fire extinguisher when you want to put out a fire.
As one of the most important suppliers of new fire safety equipment in Singapore, we provide our customers with a wide variety of products, including 2Kg dry powder fire extinguishers.