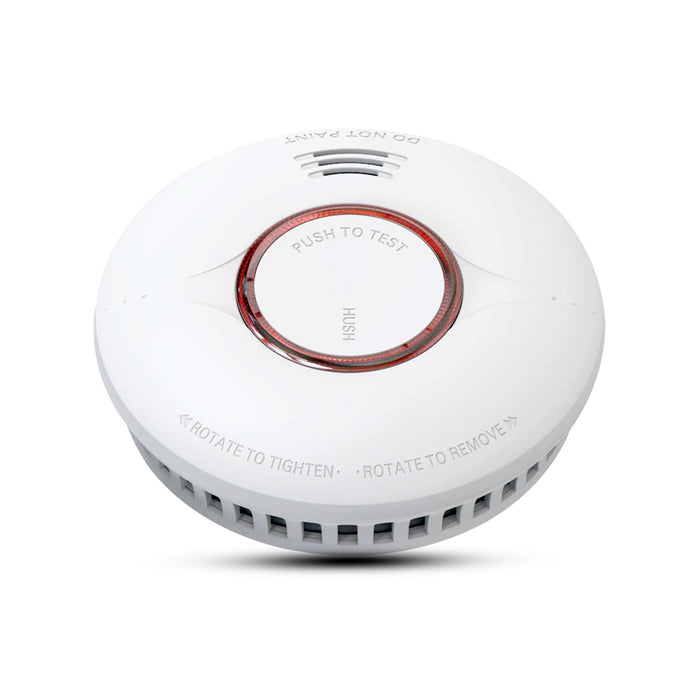 Home Fire Alarm Device (10 Years) Set of 3
⏳ 12.12 Sale ends in {timer}
Also known as Home Fire Alarm Device (HFAD) or Smoke Detector
10 Years Non-Replaceable Battery
Compliant with EN14604 Standard as required by SCDF
CE Approved, AS3786, CNPP
Meticulously tested in UK, Australia & France
Comes with screws for wall mounting

 

(recommended method of installation)
Comes with a free magnetic base with self-adhesive

 

for easy mounting

 

(Do note that for such installation, it has a risk of the detector falling off the wall due to paint peeling and the effectiveness of the tape may deteriorate over time)
LED Indicator blinks every 32 seconds to indicate that the device is in operating condition
Simple push button to test smoke detector
Runs on Photoelectric technology that allows it to be more sensitive to detect slow smoldering fires that generate thick black smoke and little heat
It produces an alarm as a reminder when low on battery

We are listed in SCDF's supplier list of HFAD.
Technical Specifications
Power: Built In DC3V (Non-replaceable)
Sensor: Photoelectric
Size: 100mm x 36mm
Current: <8uA (standby) <50mA (alarm)
Volume: >85dB(A) at 3 meters
Sensitivity: 0.10-0.16dB/m
Features of HFAD
Our battery operated smoke alarm utilises a photoelectric sensor that allows it to be more sensitive to detecting slow smouldering fires which generates thick black smoke and little heat.
It contains a non-replaceable battery that can last for 10 years.
When low on battery, the smoke detector produces a chirping sound as a reminder for replacement.
Installation can be done in 2 convenient methods. Either fasten the base of the smoke detector to the ceiling with a screws drilled into the wall, or use the optional magnet with self-adhesive on a clean smooth surface (purchase separately from your neighbourhood hardware store).
The updated Fire Code in Singapore requires newly built homes from HDBs to Condos & Landed residences as well as existing residences who are undergoing fire safety works to have Smoke Detectors, also known as Home Fire Alarm Device, installed from June 2018.
A minimum of 1 smoke alarm must be installed under the Fire Code. However, it is recommended that an alarm is installed in each room as well as the living room.
This smoke smoke will serve as an early warning when it rings in the case of a fire to alert occupants in your home.
The device contains a sensor that detects smoke. It will let out a continuous and loud sound when triggered, to give you the precious time to get out of harm's way.
Fire Safety Tips
Install Smoke Alarm near bedrooms - high on a wall or ceiling
Do not install Smoke Alarm near air vents
Do not install on the ceiling directly above frying pans in the kitchen
Test Smoke Alarm at least once a month to ensure they work