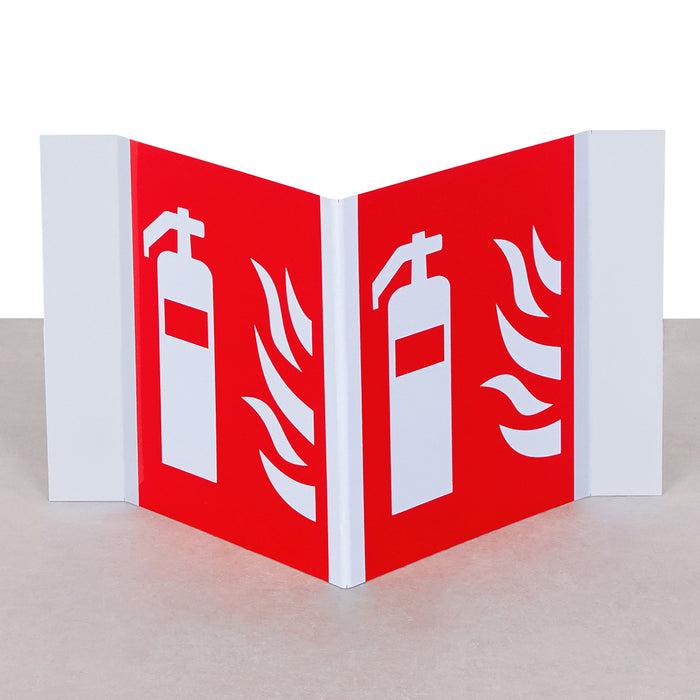 Fire Extinguisher Signage (A-Frame)
⏳ 12.12 Sale ends in {timer}
A-Frame Fire Extinguisher Signage - 300mm X 150mm (PVC) 
Highly resistant to weather elements and high visilbility due to its A-Frame shape. This pictogram is made according to Singapore Standard 508.
Importance of Safety Signage
Fire breakouts are very common now a days. Every year, billions of dollars are lost due to these incidents. The loss is not only materialistic but also include the lives of humans. Thousands of people die every year and many more are injured. To overcome these losses and make the world safer, it is necessary to create awareness.
Fire Extinguisher Signages are very useful to notify people about the danger related and make them aware. Significant risk can be mitigated by using signage's at the perfect places. So far, Singapore has a very good record of effective fire protection. This is because people are aware, industries have strong legislations and the safety rules and signs are maintained properly.
Fire Extinguishers Signage
Water used to be the most common resource to fight a fire. But sometimes it is hard to find sufficient water and water sources during an outbreak. Also, water is not effective for all classes of fire. Because of this, governments and industries have started to maintain fire extinguishers. There are different types of fire extinguishers for different classes of fires. Fire extinguisher signages are used for directing the location of fire extinguishers clearly.
Signage and what the Color-Code Means
There are four colors for delineating four different scenarios and situations. Red illustrates potential and immediate danger/danger alarm/ firefighting equipment. Yellow indicates a warning and for taking precautionary steps. Mandatory instructions are illustrated by blue signs. They often accompanied by yellow or red colored signage. Green codes and signs are used for indicating safe environment.
Fire extinguisher signage usually come in red and white with white being the sign/words and red as the background. Most of the fire extinguisher signage is made of aluminum or plastic and polypropylene. Acrylic paint is used for marking. It is necessary that these signs must be non-corrosive, wear and tear protected as they are put in different types of environments. Manufacturer of these signs keeps this thing in their minds. 
They also include other attractive features like bright photoluminescence. That makes the signs visible even in the dark. Some signs are built in a way that they can be read from all the directions.
Signage Promotes Prompt Action
The most important resource during an outbreak is time. In a critical situation, time should not be wasted in searching for the right equipment. Items like fire extinguishers and hose must be easily accessible. A clear and visible fire extinguisher sign can make a huge difference by directing the people in the right way in no time.
If an outbreak can be controlled quickly, the loss and injuries can be reduced significantly. Also, there are laws regarding the use of these signs. So fire extinguishers signs must be used in the places where there is a chance of a fire.