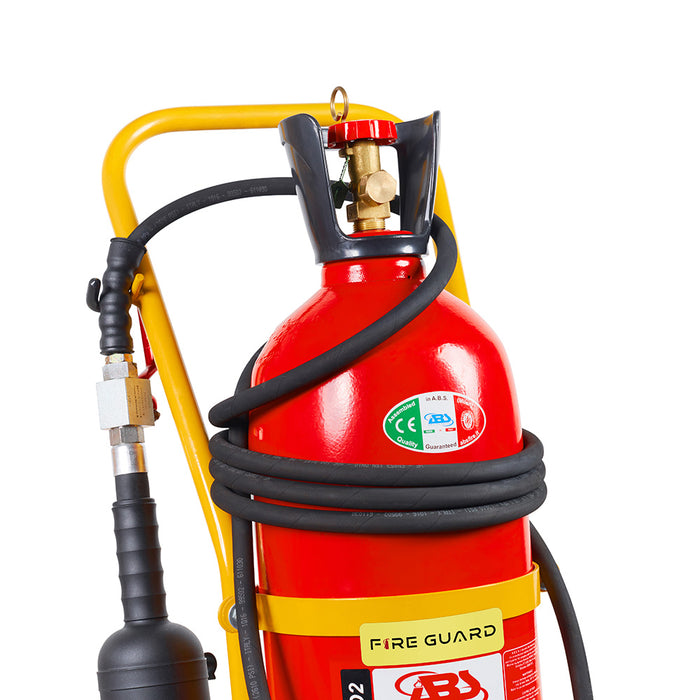 50KG ABS CO2 Wheeled Fire Extinguisher
⏳ 12.12 Sale ends in {timer}
Available on pre-order with a 4 months lead time.
Our CO2 Wheeled Fire Extinguisher is EC/MED Approved. 
Suitable for Classes of Fire: B
The wheeled fire extinguisher is manufactured according to Directive 96/98/EC (MED) with modules B and D. As with portable extinguishers, wheeled units also have to comply with high standards to ensure their extinguishing capability (fire rating), quality and reliability. The wheeled units also carry the CE mark so the range can boast three quality guarantees:a.b.s. (ISO 9001), compliance with EN 1866 and the CE mark. The standard EN1866 defines important minimum levels of pressure retention, corrosion protection, operating temperatures, and fire rating.
Technical Characteristics
Wheeled extinguishers are designed for professional use under severe circumstances, resulting in a high level of quality and ease of use. The heart of the wheeled carbon dioxide extinguisher is the 34 CrMo4 steel co2 cylinder with CE approval. Ease of mobility is achieved as a result of the large wheels with solid rubber tires and push bar also ensuring good stability during operation.
Trolley
Standard frame is made by steel tube painted with yellow epoxy-polyester paint resistant to the atmospheric aggression and to the UV rays.
Discharge Device
Equipped with a highly flexible hose with an excellent resistance manufactured from selected synthetic materials, complete with a high-performance discharge horn with an incorporated insulating handle. Completed with one brass nozzle with side outlet which creates a very efficient snow cloud.
Extinguishing Agent
Carbon dioxide is an odorless and less color gas. It weighs about 1.5 times the air; it does not wet, dirty and it does not damage objects. The CO2 used in the extinguishers is 99% pure and it is moisture-less. C02 is compressed in liquid phase inside the high-pressure cylinder. In normal conditions, 1 Kg of liquid C02 produces approx. 520 liters of vapor gas. At 20°C, the pressure inside the cylinder is about 55-60 bar. Filling ratio: 66% = 18 kg suggested for tropical climate conditions if exported in the middle east or hot countries. In cold climate countries, the maximum recommended filling ratio is 75% = 20 kg continental standard.
Advantages
• Very mobile and easy to operate.
• Excellent quality, therefore a long operational lifetime.
• Good ergonomy, easy to drive.
• Can be used at low temperatures (-30°C).
• Easy to service.
• First in Europe in accordance with the new EN 1866 standards
• With CE approval.
• Extremely high ratings on B class fire (liquid fuels). CO2 is very efficient in class "C" involving gas LPG, propane, etc. and good only on small fire in initial phases in class "A" (Organic solid materials, wood rubber, textiles etc)