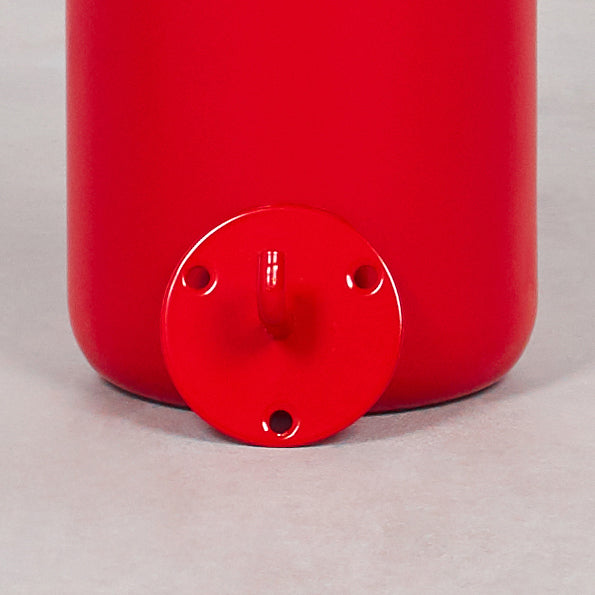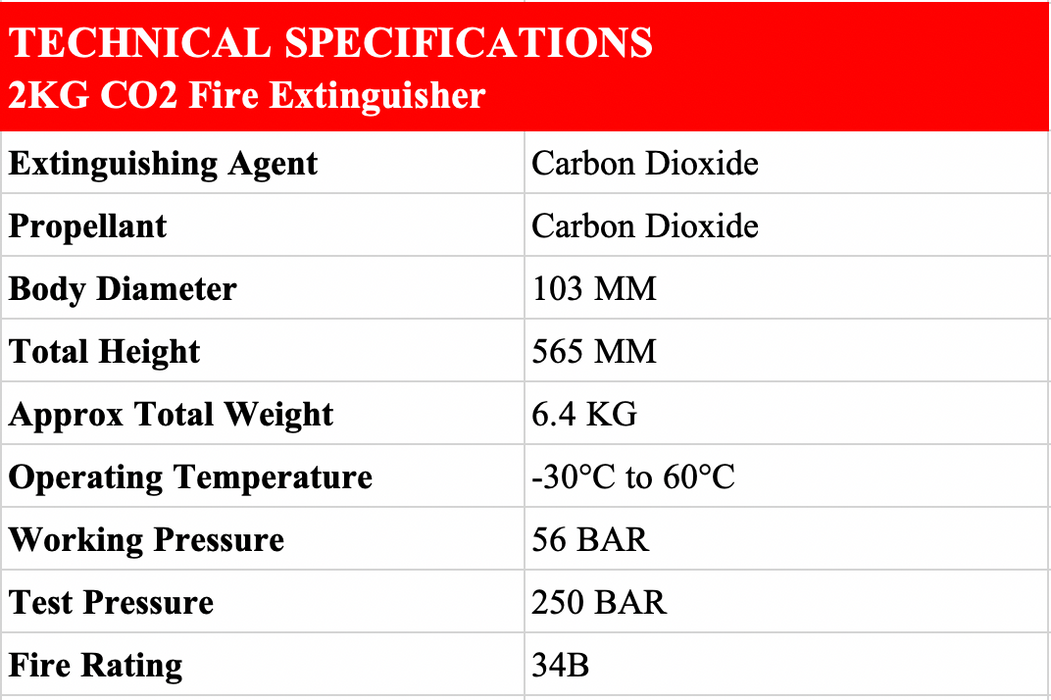 2KG CO2 Fire Extinguisher
⏳ 12.12 Sale ends in {timer}
Suitable for Classes of Fire: B
Example Places of Use (and not limited to): Office / Servers, Photo Studio, and any other place where electrical equipment is present
Approvals: SETSCO SCDF Approved & BS EN3 KM569890
CO2 (carbon dioxide) fire extinguishers are used to extinguish fires caused by electric devices. For most convenient use, we recommend a 2 KG CO2 fire extinguisher.
What is CO2 and how does it work to Extinguish Fires?
You may be used to fire extinguishers based on powder, but CO2 (carbon dioxide) models work in a different manner. Carbon dioxide is a non-conductive gas and, when used on a surface, it leaves it completely dry. Its main ability is to cut the oxygen fueling the fire, thus stopping it from expanding to other areas. If you are to follow the ABC of fire safety, you will learn that to extinguish a fire caused by electrical devices, the CO2 fire extinguishers are the only ones still recommended.
Why do we recommend the 2KG CO2 Fire Extinguisher Type?
CO2 extinguishers are sold in different sizes, the 2 KG type being the smallest. This is the model we recommend for home or office use. When you want to keep your home or office safe against electrical fires, it is important to rely on products that are especially made for house safety. Because of its small size, a 2 KG CO2 fire extinguisher is easy to manipulate; unlike larger types that come with a hose and horn, this one comes with just a horn, as it is light enough to keep in your hand when you want to discharge the gas in order to stop the fire.
What type of fire should not be attempted to extinguish with 2KG CO2 Fire Extinguishers?
You should use the 2 KG CO2 fire extinguisher only for fires caused by electrical equipment. However, you should not attempt to extinguish other types of fire with the same extinguisher. For instance, it is absolutely forbidden to use this type of extinguisher on flammable metals, part of class D materials. When you use the extinguisher, the CO2 kept inside is released at a very high pressure, and a reaction with volatile metals can occur, making the fire spread instead of extinguishing it.
You should not use this type of fire extinguisher on paper, cloth, or wood, which are class A materials, as the high pressure CO2 can make the fire spread. We strongly recommend using the 2 KG CO2 fire extinguisher only for an electrical system that has caught fire.
Advantages of CO2 Extinguishers
Besides being extremely effective for extinguishing electrical fires, one great advantage of this extinguisher is that it leaves no residue and no debris. Our recommendation is to purchase a new extinguisher if you think that your old one is out of warranty. Purchase our 2 KG Carbon Dioxide Fire Extinguisher now and meet your Fire Safety Regulations standard at your office!