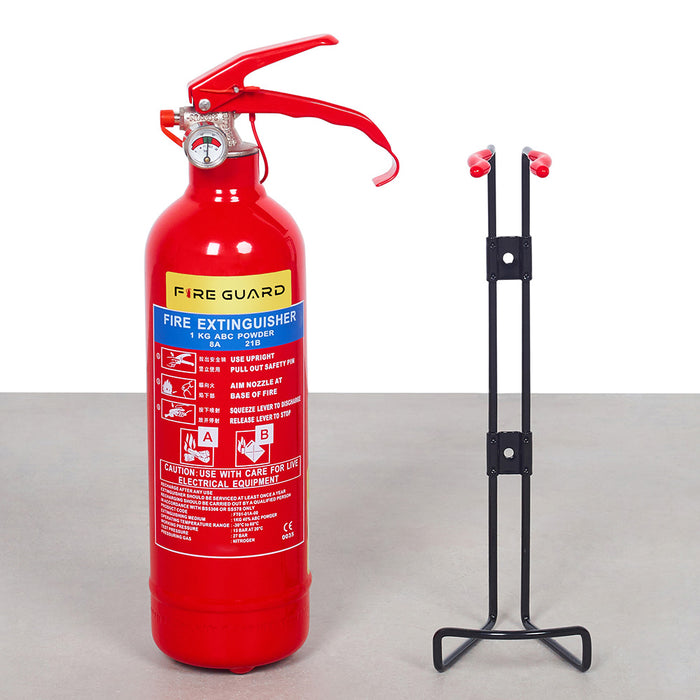 1KG Dry Powder Fire Extinguisher
⏳ 12.12 Sale ends in {timer}
5 Years Warranty on manufacturer defects
Purchase of this extinguisher comes with a free wire bracket as shown in the second photo
Suitable for Classes of Fire: A & B
Example Places of Use (and not limited to): Home, Office, Retail Shops, Warehouse, Restaurants
Approvals: SETSCO SCDF OR PSB Approved & BS EN3 KM569890
Please take note that our ABC Fire Extinguishers are labelled Fire Classes A & B only because Class C fires are extinguished simply by switching off the main gas switch. The materials on flame tend to belong to Class A & B fires which can be extinguished by this fire extinguisher.
Flammable liquids and gases are often the cause for many fires; a small sparkle can ignite a full fledge fire and cause a disaster, whether in a home or in a commercial building. The best way to protect your home and your business against fires caused by flammable liquids and gases, categorized as A, B, C classes of fire, is a dry powder extinguisher. In case you only need a small fire extinguisher, we recommend the 1kg model, as it is the smallest and easiest to use.
Types of ABC Dry Powder Fire Extinguishers
Since there is an entire array of products intended for protection against fire, you may want to learn a bit more about them. The main difference between various dry powder extinguishers is the substance used. The thing that happens when the dry powder is propelled through the hose on the fire is that it transforms into foam that covers the source of the fire and cuts the oxygen completely, making the fire die out.
One type of dry powder extinguisher that is commonly used is the type working with potassium or sodium bicarbonate. If you purchase such a product, you will be well protected against fires categorized as A, B, C classes. However, if you are looking for a multipurpose type of fire extinguisher, you can also opt for one that works with monoammonium phosphate, which is a type of yellow powder.
Size is also important. 1Kg dry powder fire extinguishers are great for home use. As a company in Singapore selling fire extinguishers for many years, FireSafetySG caters to all categories of clients, both private and commercial. If you need to extinguish a fire in your home, a 1Kg dry powder fire extinguisher is exactly the product you should have around. So, if you are in search for fire protection products, please contact us and we will be glad to help.
Know How To Use Your Fire Extinguisher
At the first sign of fire, you need to act quickly. Having a 1Kg or 2Kg dry powder fire extinguisher around is great, but you also need to know how to use it. Reading the instructions beforehand is much recommended, as you may have to use the extinguisher on the spot, while you are waiting for help. Keep in mind that, if the emergency is too difficult to handle on yourself, the best course of action is to call for professional help.
Knowing a few things about A, B, C, E and F types of fires is also important. For instance, in case there is a fire caused by an electrical system, you need to use a CO2 fire extinguisher and not a dry powder product. This is extremely important, because the latter will not be able to stop the fire, and it may even cause more problems.
When you are using a 1Kg dry powder fire extinguisher, make sure you have one hand placed firmly on the lever and the other to direct the jet towards the source of the flames. If you have any questions or you need to purchase a new fire extinguisher, contact us and we will offer you all the assistance you seek.